Plymouth Business School students offer free research and consultancy
Plymouth Business School is seeking to engage with a range of businesses, social enterprises and charities who would like student consultants to investigate a business issue for them through its Inspiring Futures project.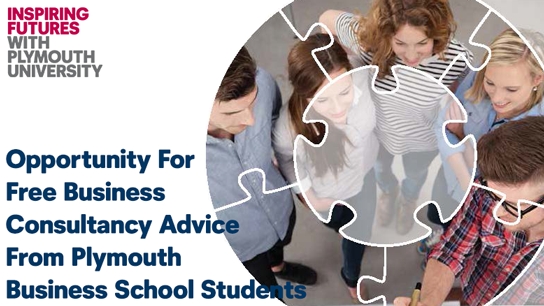 To date, Inspiring Futures students have undertaken live consultancy projects for organisations across the public, private and third sector, with clients including Plymouth City Council, Clever Student Lets, and St Luke's.
What started out as a small pilot with just 16 students in 2011 has now, in its sixth year, grown to include nearly 3500 Plymouth Business School students, undertaking in excess of 600 consultancy projects for over 250 organisations, with an estimated value to the local economy of over £900,000.
In addition to the potential financial gains from participating in Inspiring Futures, clients frequently say how beneficial it is to work with the students as they bring fresh eyes and thinking to their organisation. Sometimes the simple questions asked by students as they try and understand a business are more effective than a professional consultancy.
Inspiring Futures is uniquely designed to enhance the employability skills of Plymouth Business School students from the start of their university careers whilst adding value to the organisations they work with.
Working in teams of around five, students act as consultants fulfilling a brief which the organisation has set. In previous years, students have addressed all of the following projects:
undertake an online competitor analysis
create a social media strategy
research funding options
undertake a supplier analysis
identify potential markets for existing or new products
conduct a website review
Jackie Young, Manager, Devon & Cornwall Food Action:
"The student's contribution was twofold. Firstly, they provided additional eyes and ears, finding and recommending potential funding sources that could be followed up. They were able to pick up on a number of sources we had not previously found and give time to the research so that criteria could be assessed and applied appropriately. As a result of their support, DCFA has been able to:

Make over 20 separate applications, using their recommendations to guide suitability;
Apply for over £150,000 of possible funding (outcomes pending at the time of writing);
Secure over £25,000 of funding to date;
Maintain the services of DCFA for at least a further six months;
Maintain our service to 93 local charities (over 3000 individuals)."
Inspiring Futures features in several modules and the majority of the projects required are for modules starting in the spring. However, we also require a limited number of projects for modules that take place over the summer. You can contact the team at any time of the year to register your interest in taking part and nearer the time, we will contact you to request a project brief. This would normally be:
Spring - Projects are requested from October onwards and need to be finalised by early January, ready for the modules which start at the beginning of February and March.

Summer - Projects are requested from March onwards and need to be finalised by early June, ready for the modules which start at the end of June and beginning of July.
Students are not paid for the work that they undertake as it forms part of their assessment. During the project, the students work remotely, structuring any visits and contact to suit the client.
All students and organisations taking part in Inspiring Futures sign a formal work-based learning agreement which covers confidentiality, intellectual property rights and expectations. As part of the students' learning experience, they will present the results of their findings to the organisation via a presentation with a supporting document.
For more information about Inspiring Futures and details about how to make an application, email: inspiringfutures@plymouth.ac.uk.